Line 9:
Line 9:
 

* For some reason, sometimes she watches Mitzie and Lacey's house in the middle of the night, while they're asleep.

 

* For some reason, sometimes she watches Mitzie and Lacey's house in the middle of the night, while they're asleep.

 

* She is interested in wizards and fairies, in fact she owns a plastic fairy wand.

 

* She is interested in wizards and fairies, in fact she owns a plastic fairy wand.

 
+

* Her dad is a wrestler. He also owns a vegetable garden in their backyard.

 

[[Category:Characters]]

 

[[Category:Characters]]

 

[[Category:Female]]

 

[[Category:Female]]
---
Revision as of 19:46, 3 July 2019
Born: May 27, 2005 (age 13)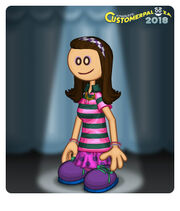 Additional info
Coming soon
Trivia
Her earrings are very thin, big gold circular hoops.
She lives in an upstairs garage.
For some reason, sometimes she watches Mitzie and Lacey's house in the middle of the night, while they're asleep.
She is interested in wizards and fairies, in fact she owns a plastic fairy wand.
Her dad is a wrestler. He also owns a vegetable garden in their backyard.