Jurassic World: Dominion Dominates Fandom Wikis - The Loop
Play Sound
Full name: Mitzie McKenzie Merritt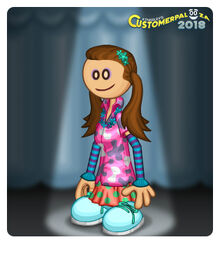 Born: April 30, 2004 (age 17)
Bio
Mitzie can be good at wood working. She also doesn't mind getting her hands dirty as, much like her Loud House friend, loves playing in the mud. She became the replacement for Twilight Sparkle in Lauren's school Mane Art Club after Sarah Jackson graduated from high school, and moved on to college. This Merritt girl also has legit pirate for a mom, and a frog of her own named Flipper!
Personality
Of the Merritts, and quite possibly the entire girl group, Mitzie is the 324 Entertainment tomboy with a heart of gold! She has also shown to be savage too! Whether she whips something or someone with her pigtails, or she does a roast on something. If anyone tries to mess with one of the Merritts, this daughter will teach you a lesson in a very savage way! Mitzie can be considered one of the coolest girl's out there!
Additional info
Occupation: 9th grade student and Marley's classmate
Height: 5'7
Zodiac sign: Taurus
Favorite colors: Coral, pink, white, light blue, purple, green
Handedness: Right
Belly button: Innie
Ticklish level: 9
Shoe size: 9
Toe color: Coral
Trivia
She loves flowers, and loves to get dirty with mud sometimes.
Her dad knows about wood working and her mom knows clowning arts.
She has two pigtails. Sometimes she braids them, sometimes she keeps them as ponytails, it depends on her mood.
Her favorite Loud House character is Lana.
Her favorite character that associates with The Casagrandes is Carlino.