Full name: Marlena "Marley" Clarabell O'Brien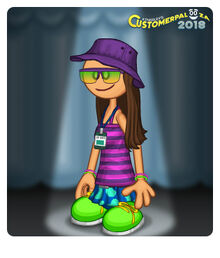 Born: February 21, 2003 (age 16)
Additional info
Occupation: 10th grade student
Height: 5'10
Zodiac sign: Pisces
Favorite colors: Purple, pink, blue, teal, green, yellow, and white
Handedness: Right
Belly button: Innie
Ticklish level: 13
Shoe size: 9
Toe color: Blue
Trivia
She is a fan of Daya, the singer, and has the walls on her room lined with Daya posters and images of her.
She has a tendency to get lost in thought, more than rarely but less than sometimes.
She has an extreme fear of elevators, because she was stuck in one for 4 hours when she was 12.

The particular day this happened was October 23, 2015, which was the same day the Harvey Beaks season 1 Halloween pairing.

She likes Harvey Beaks, and watches the Halloween episode (and the season 2 Halloween special) every October due to missing the season 1 episode while she was stuck in the elevator.
She hates candy corn. Thinks it's yucky.
She doesn't like onions.
Her favorite ice cream flavor is strawberry.
Her name is sometimes spelled "Marlie" on written papers with her name on them.
Her closest friend is Sarah, who inspired her to become a flip flop collector too. So far she has only like 10 or so pairs but is sure to make it to 100 or more later.
She has a peanut allergy.
Her favorite chipmunk is Theodore.
Her favorite Loud House character is Leni.
Her favorite character that associates with The Casagrandes is Carlota.
Community content is available under
CC-BY-SA
unless otherwise noted.