Obi-Wan Finale - The Loop
Play Sound
Valentine's Day special 2017. Inspired by this: https://www.youtube.com/watch?v=UKOD44WQDnA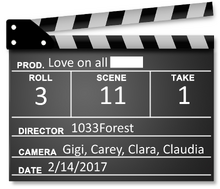 A part of 324 Entertainment Shorts: Volume 2. DO NOT EDIT
Release date: February 11, 2017
Rated: 12
Cast
1033Forest (Director/filmer)
Gigi
Carey
Clara
Claudia
Transcript
(1033Forest claps clapboard)
Gigi: I never really saw myself as that kind of person.
Clara: She'd been asking me for weeks, sending invite after invite.
Carey: Hmm, 3 years. Wow... I can't believe it's been 3 years.
Clara: Until I thought, you know, I should just go for it.
Claudia: But then, Gigi just kept pushing me. She'd say...
Gigi: "Go on! Give it a try!"
Clara: I know that sounds a bit cliche, but we just had this...amazing connection.
Carey: Love at first sight? I don't know. I mean we kept seeing each other on breaks, at lunch...
Clara: Sure, sometimes it's been hard and sometimes I even felt like giving up.
Claudia: And now I feel so liberated!
Clara: I'm on level 1033!
Carey: Best. Game. Ever.
Clara: It's love. Love on all levels.
(Candy Crush logo appears)
1033Forest: (in background) Sugar Crush!