Full name: Holly Nale Redd (Holly N. Redd)
Born: March 19, 1988 (age 33)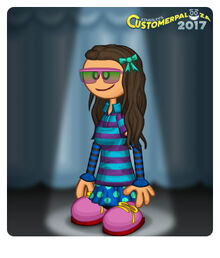 2010
In a BrainSurge puzzle (episode 203), she almost got in trouble for passing a note to John, one of the other students in the classroom.
2017-present
Holly joined 324 Entertainment and is now Danella's obnoxiously annoying neighbor, who constantly thinks of ideas and other stuff. And got brighter colored clothes and a slight tan.
Facts about her
She can make good soup.
She is allergic to peanuts.
She likes turtles.
Her favorite shoes are crocs and flip flops.
She has a pair of brown fuzzy slippers.
She likes being barefoot sometimes.
She is autistic.
Additional info
Occupation: Unknown
Height: 5'9
Zodiac sign: Pisces
Favorite colors: Blue, teal, purple, and pink
Handedness: Right
Belly button: Innie
Ticklish level (1-10): 10.5
Shoe size: 9.5
Toe color: Teal
Food day she was born on: Poultry Day
Phone number: (134) 148-5909
Community content is available under
CC-BY-SA
unless otherwise noted.