Full name: Haley Regina Barker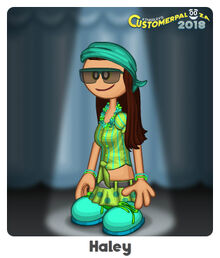 Born: March 1, 1992 (age 28)
Additional info
Occupation: 432 Carnival worker
Height: 5'10
Zodiac sign: Pisces
Favorite colors: Teal and green
Handedness: Right
Belly button: Innie
Ticklish level: 9
Shoe size: 9.5
Toe color: Teal
Trivia
She is slightly lactose intolerant, if she consumes dairy, her tummy will hurt for a bit depending on the amount.

Because of that, in Freezeria, she orders her sundae in a small cup, and in Scooperia, her order is always 1 scoop no matter if she's a bronze, silver, or gold customer.
She can have non dairy whipped cream made with almond or coconut milk.

She loves to travel, and is a pro at scavenger hunts.
She is a flip flop lover. She does not own the sneakers in the preview image of her above, she is only wearing them because the character creator used to make her did not include flip flops.
She loves blue cotton candy caramels.
She works in 432 Carnival along with her sister, Cara.
Haley has been working at the carnival since August 2013.
She clips her nails over a sink with the water running, to get rid of the clipped nails better, and the water makes sure the nails don't clog the drain. It also keeps her hands and feet clean too.
Her favorite Chipette is Jeanette.
Her favorite Loud House character is Luna.
She loves 324 Entertainment, and works tirelessly to make sure everything produced is good and entertaining.
Her favorite character that associates with The Casagrandes is Hector.
Community content is available under
CC-BY-SA
unless otherwise noted.