Full name: Grace Marie Page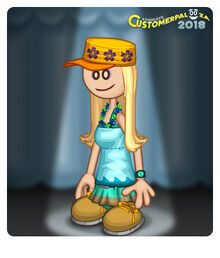 Born: November 20, 1998 (age 20)
Additional info
Occupation: Foam pit manner at Fun House, also owns a lotion line
Height: 5'11
Zodiac sign: Scorpio
Favorite colors: Light blue, yellow, and tan
Handedness: Right
Belly button: Innie
Ticklish level: 7
Shoe size: 9
Toe color: Light blue
Trivia
She works at Fun House, manning the foam pits.
She has a fear of Ferris wheels since she was 4.
She owns a line of scented lotion "paints" to make moisturizing skin more fun. She tests new colors and scents she makes on her sister Laney before approving them to be in stores.
Her favorite Chipette is Eleanor.