Full name: Claudia Lopez
Born: December 1, 1997 (age 23)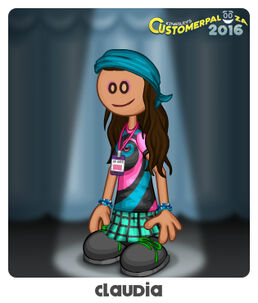 A worker at an airbrush tattoo stand. Her favorite colors are pink, blue, and purple. Tends to like sweets a lot so she goes to the sweet festival, she has been there for every year since 2011. Got her VIP pass in 2013 and has kept it ever since. Likes experimenting with new slip'more combinations/flavors. Though she has already graduated high school, still acts like a high schooler. Also likes to create new stuff with colored chocolate melts, and new gummy stuff. When she heard of the opening of 432 Carnival, she decided to move her airbrush tattoo business there.
On July 18, 2018 she suffered injuries due to a car accident, caused by another car hitting her car. She has been treated in the 324 Ent Hospital, and her treatment completed on July 24, just in time for Scooperia's release date.
Additional info
Occupation: Airbrush tattoo stand worker
Height: 5'9
Zodiac sign: Sagittarius
Favorite colors: Pink and turquoise
Handedness: Right
Belly button: Innie
Favorite food: Anything sweet
Ticklish level (1-10): 10.5
Shoe size: 9
Toe color: Teal
Food day she was born on: National Pie Day
Phone number: (134) 983-3391
Trivia
She is a fan of BFDI (Battle for Dream Island) and her favorite character is Leafy.
She likes nature.