Born: February 4, 2003 (age 16)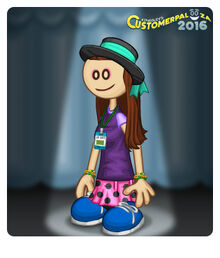 A friend of Lillian. Currently in the 8th grade. Hence the pink/purple, you could probably tell she has a bunch of accounts for game websites when she was younger.
Additional info
Height: 5'0
Zodiac sign: Aquarius
Favorite color: Purple
Handedness: Right
Belly button: Innie
Favorite food: Anything neon/brightly colored (like those Lifesavers Gummies Neons)
Ticklish level (1-10): 3
Shoe size: 8.5
Food day she was born on: National Stuffed Mushroom Day
Phone number: (395) 824-8385
Community content is available under
CC-BY-SA
unless otherwise noted.