Born: November 22, 1980 (age 40)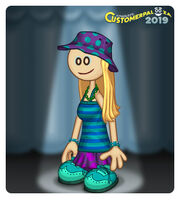 She is Lacey's mother and a marine biologist. She loves mustard, and doesn't mind her daughter wearing swimsuits everywhere.
Trivia
She likes brightly colored candies, like Nerds and gummy worms. She likes Nerds on her ice cream too.
Her emoji earrings are silver poop emojis.